Sub-categories:
Rituals & Practice | Tibetan | Zen | History | Sacred Writings | Theravada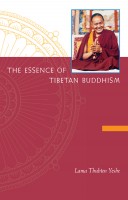 The Essence of Tibetan Buddhism
by

Lama Yeshe
The first teaching, "The Three Principal Aspects of the Path," was given in France in 1982. The second teaching, an "Introduction to Tantra," also in two parts, was given at Grizzly Lodge, California, in 1980. These comprise the first two lectures of a commentary on the Chenrezig yoga.