Sub-categories:
Rituals & Practice | Zen | Tibetan | History | Sacred Writings | Theravada
The Bodhicaryavatara: A Guide to the Bodhisattva Way of Life
by

David Tuffley
This ancient text was written in Sanskrit around 700 CE by Santideva, renowned Buddhist monk and scholar. This version is written in easy to understand language accessible to the modern reader. If you are embarking on the path to enlightenment, or just curious, this book could be just the change agent you have been looking for. It is said to be one of the Dalai Lama's favorite texts.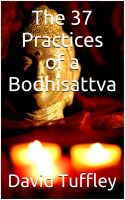 The 37 Practices of a Bodhisattva
by

David Tuffley
Tokme Zangpo's classic 14th Century guide for travellers on the path to enlightenment. A companion to Santideva's classic work the Bodhicaryavatara. While there are English translations of this text, they are a little difficult to understand for many readers living in the 21st Century. The mode of expression and the figures of speech are the product of that far-off time.