Sub-categories:
Rituals & Practice | Zen | Tibetan | History | Sacred Writings | Theravada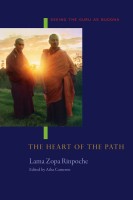 The Heart of the Path: Seeing the Guru as Buddha
by

Lama Zopa Rinpoche
This book is an extensive teaching on guru yoga by Lama Zopa Rinpoche, a contemporary exemplar of the practice. Rinpoche explains the importance of guru devotion, the proper way to develop a student-teacher bond and offers commentary on each traditional guru devotion sub-topic found in Tsongkhapa's lam-rim. The text also provides a textual outline to help guide your reading through the topics.