Sub-categories:
Rituals & Practice | Tibetan | Zen | History | Sacred Writings | Theravada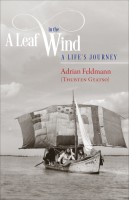 A Leaf in the Wind: A Life's Journey
by

Venerable Adrian Feldmann
This personal account of one man's search for happiness is often humorous and sometimes shocking. Adrian Feldman doesn't shirk revealing the mistakes and failings which help to highlight his personal message of hope. His spiritual path is a quest to "slay the ego," and his life story is a parable for modern times.