Sub-categories:
Rituals & Practice | Zen | Tibetan | History | Sacred Writings | Theravada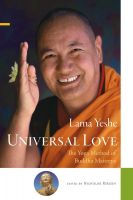 Universal Love - The Yoga Method of Buddha Maitreya
by

Lama Yeshe
By pulling together some of Lama Yeshe's introductory teachings on Buddhism, meditation, compassion and emptiness, and combining them with the definitive explanation of tantra, this one valuable volume will inspire to go more deeply into the Yoga Method of Buddha Maitreya–a tantric practice.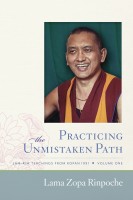 Practicing the Unmistaken Path
by

Lama Zopa Rinpoche
This is the first volume in a new series of Lama Zopa Rinpoche's teachings given during the 24th Kopan lam-rim course in 1991. This first volume covers topics such as compassion and universal responsibility, the benefits of developing bodhicitta, the disadvantages of self-cherishing, and emptiness.