Sub-categories:
Rituals & Practice | Tibetan | Zen | History | Sacred Writings | Theravada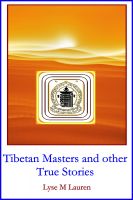 Tibetan Masters and other True Stories
by

Lyse Mai Lauren
This is a collection of short stories which took place in the Himalayan Mountains of Nepal and India during the 1980s and nineties. Either I participated directly or heard them first hand while I was living near my Tibetan Masters and endeavouring to follow Their teachings. They provide a unique glimpse into a way of life that is not normally known of or even accessible to many in the West.
Related Categories