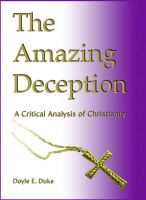 The Amazing Deception: a Critical Analysis of Christianity
The Amazing Deception is a history of Christianity that kicks the foundation stones from underneath the generally accepted view of that religion. It reveals the inception of Christianity and follows its development into the Orthodox Church, its growth, and transformation to Catholicism. It describes that organization's corrupt reign through the Dark Ages and into the Reformation.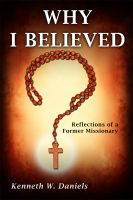 Why I Believed: Reflections of a Former Missionary
This is a story of a true Christian who believed for nearly three decades, having grown up the son of evangelical missionary parents. He later became a missionary himself but eventually lost his faith. In this part-autobiography, part-exposé, Ken traces his journey from evangelical missionary to secular humanist while remaining part of a committed Christian family.