Sub-categories:
Ancient & classical | Modern (late 19th Century–1945) | Medieval | Contemporary (1945–) | Renaissance | Prehistoric & primitive | Romanticism | Baroque & Rococo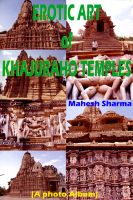 Erotic Art of Khajuraho Temples
by

Mahesh Dutt Sharma
Khajuraho is now under the protection of the Archaeological Survey of India which has found many more underground temples at this site. The destination is also a UNESCO World Heritage Site and is one of the seven wonders of India. Every evening there is a show here about the art, philosophy and history of Khajuraho.