Sub-categories:
Ancient & classical | Medieval | Modern (late 19th Century–1945) | Contemporary (1945–) | Renaissance | Romanticism | Prehistoric & primitive | Baroque & Rococo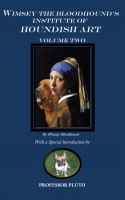 Wimsey the Bloodhound's Institute of Houndish Art Volume Two
by

Wimsey Bloodhound
Wimsey the Bloodhound believes that all pictures look better with a Hound in them--even if they were painted by Leonardo! Aided and abetted by his French Bulldog colleague, Professor Pluto, Wimsey has "improved" some of the world's best-loved and most renowned art masterpieces by placing himself at the center of the action. Painting will never be the same!