Sub-categories:
Ancient & classical | Modern (late 19th Century–1945) | Medieval | Renaissance | Contemporary (1945–) | Romanticism | Prehistoric & primitive | Baroque & Rococo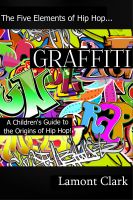 Graffiti: A Children's Guide to the Origin's of Hip Hop
by

Lamont Clark
Hip Hop culture is more than Rap music. Graffiti is one of the five elements of Hip Hop culture.This is a book about the origins of Graffiti writing in the United States. This book will help children of all ages learn about how the art of Graffiti was started and grew in the U.S.