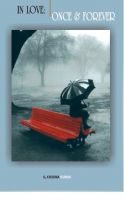 In Love : Once & Forever
When I saw you for the first time Your gaze took my soul and You became my life Though I breathe, I do not live So, give my life back or Take my breathe away.
Victim of a Dream
For him, life was sacred and death... more sacred. When life comes wet from the monsoon rains,it leaves its trace behind. When it melts into the twilight of death, it leaves its fumes behind. An anthology of poems and short stories by the young writer written during the three years as an undergraduate student at Sree Sankara College, Kalady and the two years as a journalist in the making.