Sub-categories:
Personal inspiration | Spiritual inspiration | General self-help | Daily affirmations | Meditation | 12-step programs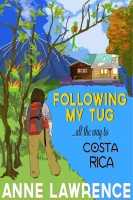 Following My Tug... All The Way To Costa Rica!
Ms. Lawrence evocatively chronicles the adventure of moving to a Third World country: from the decision-making process to the move to their first year abroad. You'll laugh, you'll cry... but mostly, you'll feel inspired!