Sub-categories:
Personal inspiration | Spiritual inspiration | General self-help | Daily affirmations | Meditation | 12-step programs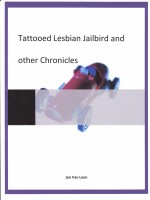 Tattooed Lesbian Jailbird and other Chronicles
A must read for the short story fan who likes to be entertained and mentally challenged. This compendium is a heterogeneous collection of stories. Those who enjoy humor and intrigue will find much to enjoy. Most of the offerings herein are diverting and cheerful. However beware approaching sections toward the end. These have material of controversial, contemporary, subject matter.