Sub-categories:
Personal inspiration | Spiritual inspiration | General self-help | Daily affirmations | Meditation | 12-step programs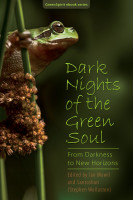 Dark Nights of the Green Soul: From Darkness to New Horizons
by

Ian Mowll & Santoshan
'Dark Nights of the Green Soul' highlights insights about facing difficult times, alongside reflections on our interactive relationship with Nature and our shared responsibilities. The book presents various perspectives about working with darkness and ways in which we can creatively move forward. It offers practical views for the times in which we live and 'the great work' we need to embrace.