Sub-categories:
Personal inspiration | Spiritual inspiration | General self-help | Daily affirmations | Meditation | 12-step programs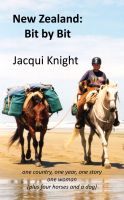 New Zealand: Bit by Bit
by

Jacqui Knight
(4.67 from 3 reviews)
The story of one woman's ride, horseback, the length of New Zealand, accompanied by a small dog. The easy to read text captures the amazing scenery, Nature at its best, the warmth and friendliness of the people... and the funny tricks that the horses played on Jacqui. A great read for anyone contemplating visiting the country - you get a really good look at the country from the back of a horse.