Sub-categories:
Personal inspiration | Spiritual inspiration | General self-help | Daily affirmations | Meditation | 12-step programs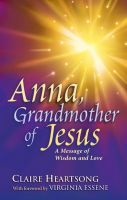 Anna, Grandmother of Jesus
by

Claire Heartsong
Meet Anna an extraordinary woman who birthed a Spiritual Lineage that changed the world. Anna, the mother of the Virgin Mary and grandmother of Jesus, appeared to Claire Heartsong in a 1988 meditation asking if Claire would write her story since she said no one knew her story. This remarkable story reveals potent information and history regarding the divine feminine and its relevance to us today.