Sub-categories:
African American | Native American | General | Hispanic American | Asian American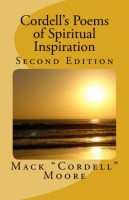 Cordell's Poems of Spiritual Inspiration: Second Edition
(5.00 from 1 review)
This is a Christian book of inspirational poems. This book covers themes such as suicide, self-esteem, and love. Some titles are: God Is..., Priceless, Please Don't Do It(Jesus Loves You), and Feeling Good About Yourself(Self-Esteem). This book contains 24 poems. This book encourages those who read it whether they are Christian or not.