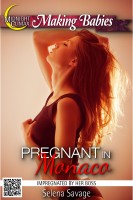 Pregnant in Monaco (Impregnated By Her Boss)
by

Selena Savage
A waitress thinks her life will always be boring. A mysterious billionaire proves her so, so wrong. Julia Sommers job in Monaco seemed like a dream. After all her schooling, it's a little disappointing to be waitressing. But it's almost like living among the gods on Mount Olympus. When she's approached by a handsome, mysterious billionaire with the offer to follow him into an alley on a shortcut..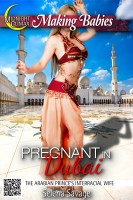 Pregnant in Dubai (The Arabian Prince's Interracial Wife)
by

Selena Savage
An Arabian prince wants to marry her. Will she get pregnant, too? Rachel Marigold had assumed that her sister, third in a line of national-level reporters, would be safe when she left the country for a story. When she received a letter claiming she'd been kidnapped, and demanding a king's ransom, she assumed that there were mechanisms in place to deal with it. Both of those assumptions, she soon..