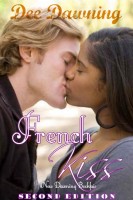 French Kiss
by

Dee Dawning
An admissions dept. snafu at prestigious Juilliard School for Arts, pairs a lovely African American girl and a blond haired Frenchman as dormmates. Maybe it's karma, but sparks of frustration turn to the heat of attraction and in short order the pair becomes a couple. But cruel fate steps in at Christmas break, when, after a second snafu, the lovebirds are separated by an ocean of despair.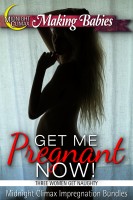 Get Me Pregnant Now! (Three Women Get Naughty)
by

Midnight Climax Impregnation Bundles
These women are baby crazy. Find out why! Get Me Pregnant: She wants to be pregnant, and she wants it now. Lana's life is on hold. She wants children, but her ex husband cheated on her. That betrayal left her afraid of the future and forced her to start over. Her new fiance promises a better life. But will he fail the same way her ex did? As they get settled and ready to marry, Lana starts to...