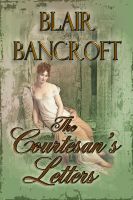 The Courtesan's Letters
by

Blair Bancroft
Cultures clash as Abigail Todd, a strongly patriotic proper Bostonian, is forced to cooperate with Jared Verney, an aristocratic earl, in order to carry out instructions in letters written by Abigail's grandmother, a renowned courtesan. The supposed prize, a grand cottage that was once part of the Verney estate. Except the wily old courtesan had an entirely different goal in mind.
A Gamble on Love
by

Blair Bancroft
(4.00 from 1 review)
To escape an unscrupulous uncle, Aurelia Trevor reluctantly accepts a marriage of convenience with a man outside her social circle. But in Thomas Lanning she gets a great deal more than she expected, discovering she must not only cope with the strong-willed stranger who is her husband, but with his unexpected young relatives and the dubious characters involved in his campaign for Parliament.
Related Categories