The Boy With Silver Eyes
by

Bruce Coville
Set in the world of the Unicorn Chronicles, this is the story of Nils, whose father was a Hunter and who forced Nils to do something terrible that changed his life thereafter. Seeking the songs of earth, fire, air, and water, Nils tries to fulfill his destiny. Features a guest appearance by "The Wanderer", Ivy Morris.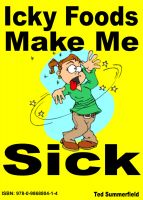 Icky Foods Make Me Sick
by

Ted Summerfield
This 18-page colorful picture ebook is about a very young girl named Susie Snorz, who is very fussy about what she eats. Susie, who can't stand to see her baby brother enjoy anything, gets really mad one day because her baby brother is enjoying something she thought would be icky. She learns new things can be good. Appendix contains large black and white pictures for coloring. Age: 2-5 year old.
Related Categories