Sub-categories:
Dating and relationships | Sex and health | Transgender | Politics and society | Biographies | Essays | Entertainment | Coming out | History | Travel | Sociology | Parenting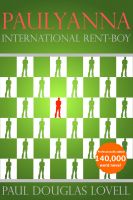 Paulyanna: International Rent-boy
(5.00 from 1 review)
Paulyanna: International Rent-boy is a honest and frank portrayal of a working-class male prostitute's life. Early abandonment, poverty, lack of education and sexual abuse delivered Paul onto the streets. But, ever optimistic, he does not dwell too much on the past. Without added glamour or grit, Paul shares the raw accounts of his life as a rent-boy in the 90s, from London to Los Angeles.