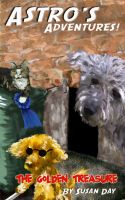 The Golden Treasure - Illustrated!
by

Susan Day
(4.00 from 1 review)
In this great children's book of the Astro's Adventures series, The Golden Treasure, our dedicated operatives are sent to find a secret treasure which has been stolen by the evil cat, Speed Bump Charlie. To make things more difficult the Golden Treasure has been cleverly hidden in the one place no dog has ever entered before - a cat show!