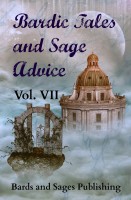 Bardic Tales and Sage Advice (Volume VII)
by

Bards and Sages Publishing
Though originally meant as a stand alone anthology, the Bardic Tales and Sage Advice collection has evolved into an annual celebration of speculative fiction. The collection is now an invitation-only anthology. Volume Seven includes short stories by Thaxson Patterson II, Jamie Lackey, Chad Strong, Carma Lynn Park, Doug Caverly, Michelle Ann King, L. Lambert Lawson, and Julie Ann Dawson.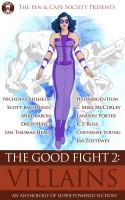 The Good Fight 2: Villains
by

Nick Ahlhelm

,

Scott Bachmann

,

Mike Baron

,

Drew Hayes

,

Ian Thomas Healy

,

Hydrargentium

,

T. Mike McCurley

,

Landon Porter

,

R.J. Ross

,

Cheyanne Young

, &

Jim Zoetewey
The second anthology from the authors of the Pen & Cape Society contains eleven all-new tales from the wrong side of the law. The proceeds of this collection will benefit long-time comic book author James Hudnall, who has fallen upon hard times, losing a foot to diabetes and becoming homeless. They may write about villains, but they're a pretty heroic bunch.