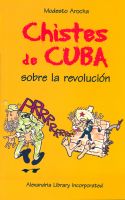 Chistes de Cuba
by

Modesto Arocha
Hace más de 50 años Castro prohibió las bromas políticas en Cuba. Sin embargo, los cubanos no perdieron su sentido del humor, sino que devino clandestino. El autor compiló en la Isla muchos chistes y se las ingenió para enviar la antología a USA, donde la publicó bajo seudónimo. Cuando pudo salir de Cuba continuó el proyecto. Esta es la 3ra. edición.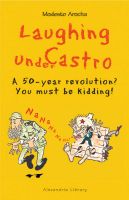 Laughing under Castro
by

Modesto Arocha
After the Cuban Revolution (1959), there would be no more political jokes told in public against the government. But the Cuban people did not lose their sense of humor, now took it underground. In 1990 a man living in Cuba, Modesto Arocha, began to compile these jokes about the Revolution and managed to smuggle his collection out of the country. Laughing under Castro is that book.
Related Categories