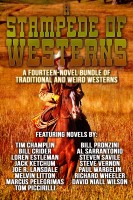 A Stampede of Westerns - A Fourteen Novel Bundle of Traditional and Weird Westerns
by

Tim Champlin

,

Bill Crider

,

Loren D. Estleman

,

Jack Ketchum

,

Joe R. Lansdale

,

Melvin Litton

,

Marcus Pelegrimas

,

Tom Piccirilli

,

Bill Pronzini

,

Al Sarrantonio

,

Steven Savile

,

Steve Vernon

,

Paul Victor Wargelin

, &

David Niall Wilson
A Stampede of Westerns features fourteen novels, novellas, and collections of the old west. Some are mysteries, some are traditional westerns, and a couple are Weird Westerns, but all are chock-full of cowboys, horses, guns and adventure from some of the western genre's best-selling authors.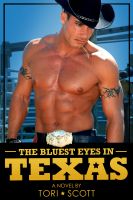 The Bluest Eyes in Texas
by

Tori Scott
(5.00 from 2 reviews)
Bull rider Cooper Saunders has a shot at the PBR championship until a bull shatters his body, and puts him in very real danger of never being able to walk again. Physical therapist Nancy Phillips is not about to let Cooper give up, not after she worked so hard to get him back in shape for the finals. Now she must not only help him find the will to live, but also to get out of that wheelchair.