Forge of War (Jack of Harts 1)
by

Medron Pryde
Jack grew up in a world at peace, his only interests, partying and girls. But when a sneak attack killed millions of Americans, and wiped out almost everything and everybody Jack knew, he found out that the Marines want more than people looking for revenge, and cybernetic partners demand a higher commitment. He had to become a man willing to live up to the name of his squadron. A Cowboy.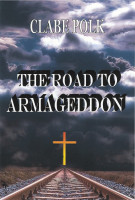 The Road to Armageddon
by

Clabe Polk
Mark and his family become prey to a multi-national corporation, International Financial Services, and locked in a struggle to survive, treachery, slavery, disease, government subversion and natural disasters as the world careens toward the War of Armageddon. The Road to Armageddon is a story of struggle, survival and redemption during the Great Tribulation.
Related Categories