Sub-categories:
General | Satire | Black comedy | Parody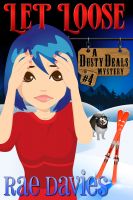 Let Loose: Dusty Deals Mystery Series: Book 4
by

Rae Davies
Book 4 in the Dusty Deals Mystery Series. No good deed goes unpunished. The rule has kept Lucy Mathews out of trouble for most of her 29 years. That is until her part-time partner decides Lucy's image needs a little polishing and shoves her in front of every do-good bandwagon she can find.