Sub-categories:
General | Undead | Weird fiction | Occult | Ghost | Crime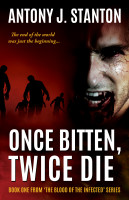 Once Bitten, Twice Die
by

Antony J. Stanton
When you're stuck in the middle of zombies and vampires, all hell's gonna break loose. Literally! Book 1 from bestselling post-apocalyptic thriller series redefining the genre. Is the enemy of my enemy my friend, or should I totally annihilate them both? What happens if a suave, lone vampire is cornered by a horde of enraged infected? Find out now. Only one thing is certain - there will be blood!