Sub-categories:
Literature | Sociology | Author profile | Political | Business | Technology | Legal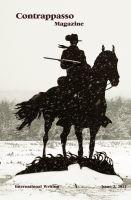 Contrappasso Magazine, Issue 2: International Writing
CONTRAPPASSO is an independent biannual magazine of international writing published in Sydney, Australia. Issue 2 contains interviews with Elmore Leonard & Clive Sinclair. Contributors: Mimi Lipson, John Salazar, David Thomson, Paul Pax Andrews, Peter Doyle, Antigone Kefala, Chris Andrews, Mark O'Connor, Paolo Totaro, Paolo Fabrizio Iacuzzi, Floyd Salas, and others...