Sub-categories:
Literature | Sociology | Author profile | Business | Political | Technology | Legal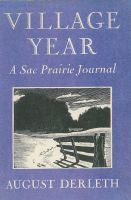 Village Year: A Sac Prairie Journal
by

August Derleth Society
A 3-year journal describing life in the author's hometown of Sauk City, Wisconsin, and its surroundings. It contains poetry, detailed natural descriptions of the region, and colorful anecdotes about the region's inhabitants and some of Derleth's notable friends, like the writer, HP Lovecraft. Illustrated with Woodcuts by Frank Utpatel.