Sub-categories:
Literature | Sociology | Business | Political | Author profile | Technology | Legal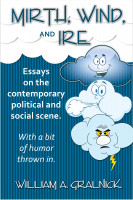 Mirth, Wind, and Ire
by

Bill Gralnick
(5.00 from 2 reviews)
Mirth, Wind, and Ire is a book of essays on the contemporary social and political scene--with a bit of humor thrown in. An easy read, using case studies, that is engaging yet challenging, the reader travels through five sections exploring: the world around us, religion, intergroup issues, topics from the international scene, and of course politics. Like Levy's Bread says, "Try It, You'll Like It"