Sub-categories:
Literature | Sociology | Author profile | Political | Business | Technology | Legal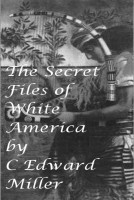 The Secret Files of White America
by

C. Edward Miller
It all starts with a file on many Black Americans--even those without a history of imprisonment. I am afraid of our Hebrew Elohim and what he will do to protect Black America--good Whites are clueless. Already the God of Israel is turning spring into winter, and coming is a winter during the summers. America must let its Hebrew slaves return to Israel by moving the people there without murdering.
Just Around The Bend: Más o Menos
by

Renee Paule
(5.00 from 1 review)
A compelling and at times uncomfortable look at the world of Humanity through the eyes of one of its inhabitants. You may find yourself nodding your head in agreement and perhaps shaking it in disagreement. However, what you can't deny are the truths contained within about the human psychological condition; in other words, our incredible human traits and behaviour.