Sub-categories:
Literature | Sociology | Author profile | Business | Political | Technology | Legal
Control, and The New World Order
by

Doug Beaulac Jr.
Are you curious about the "Cuba Connection" or "New World Order"? a.k.a: Genus (Elitus) or the Bastard Rats thereof? They pose a serious and ever increasing threat to the well-being of man-kind's freedom and prosperity. This problem requires the immediate attention of the world's common folk...NOW!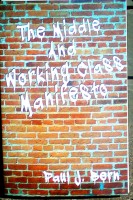 The Middle and Working Class Manifesto
by

Rev Paul J. Bern
Before the Sanders presidential campaign, before there was Occupy Wall St., before "the 99%" and Anonymous, before Ferguson, Mo. and Freddy Gray, before Trayvon Martin, Michael Brown and Eric Garner, before the 'Arab Spring', Syria and Palestine, there was this book, the book that helped start it all!