Special Deals
Sub-categories:
Literature |
Sociology |
Business |
Political |
Author profile |
Technology |
Legal
The Worst Paperboy in the World
by

Vince Iuliano
In the 1970's for a young boy delivering the New York Daily News to the suburbs, it was the best of times (and the worst of times). Good customers he soon learned, had to be trained and cultivated, like a good garden. Subscribers may have been dropping like flies, but the ones who remained were the very best.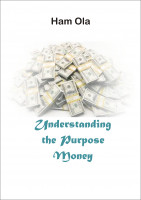 Understanding the Purpose of Money
by

Ham Ola
Price:
$14.99

$7.50 USD.
(
50% off
until
April 2
!)
Words: 1,280.
Language: English.
Published: September 29, 2018
. Categories:
Essay
» Literature
,
Essay
» Business
In this book you will discover that Money truly is designed to fulfill purpose. Money literary flows in the direction of its purpose. If you are conscious of the purpose of money and position yourself to fulfill it, you will attract money.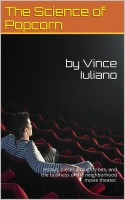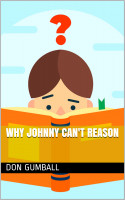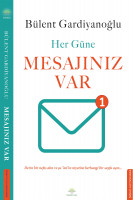 Mesajınız Var
by

Bulent Gardiyanoglu
Elinizdeki bu kitap, kişisel gelişim yolunda; yola nasıl çıkacaksınız, nereden başlayacaksınız, kendinizi nasıl arındırıp hayatınızın iyiye doğru ilerlemesini sağyalabileceksiniz, bu konularda size başlangıç ipuçları vermede yardımcı olacaktır. Kitabın en ilginç özelliği "sizinle konuştuğunu" fark edeceksiniz. Kitaptan "Şu anın niyetine..." diyerek derin bir nefes alın ve herhangi bir sayfa açın.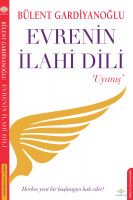 Evrenin İlahi Dili ''Uyanış''
by

Bulent Gardiyanoglu
Hayatımda yolunda gitmeyen bir şeyler vardı. Yıllardır çabalıyordum. Bir türlü hayalini kurduğum yere bırak gelmeyi, yanına bile yaklaşamamıştım. Kontrol etmeye çalıştığım her şey, kontrolümden çıkmıştı.Herkese saçımı süpürge etmiştim, kimse kıymetimi bilmemişti. Hep de beni bulur, hep de benim başıma gelirdi… Arızalanmaktan yorulmuştum…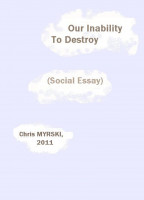 Our Inability To Destroy (Social Essay)
by

Chris Myrski
This is an essay about the contemporary consumer society, that creates artificial things but /is unable to destroy them/ later. It begins with philosophical reflections about the world and then observes some concrete cases of such inability like the: revolutions & wars, outdated moral norms, obsolescence of the things, garbage of different kind, and proposes some directions in which have to work.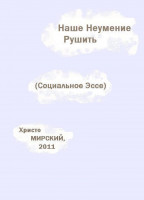 Наше Неумение Рушить (Социальное Эссе)
by

Chris Myrski
In Russian. Это эссе о нашем консумативном обществе, которое создаёт искусственные вещи, но /не умеет их разрушать/ потом. Оно начинается философскими размышлениями о мире, а потом рассматриваются ряд конкретных случаев такого неумения как: революции и войны, устарелые моральные нормы, моральный износ товаров, мусор разного вида, и другие), предлагая на ходу и указания о том, что нужно делать.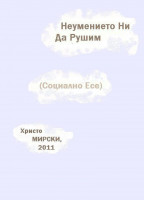 Неумението Ни Да Рушим (Социално Есе)
by

Chris Myrski
In Bulgarian. Това е есе за нашето неумение да рушим, много неща, а в природата всичко е обвързано в цикли, и ако не ги затворим правилно се стига до големи катаклизми. Разгледани са следните случаи: революциите и войните, моралните норми, моралното износване на нещата, боклука от различен вид, хората, и информацията. Нещата хем са философски, хем касаят всички ни, хем не са разрешени правилно.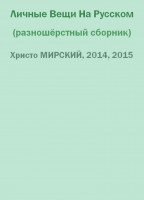 Личные Вещи На Русском (разношёрстный сборник)
by

Chris Myrski
In Russian. Эта папка содержит несколько вещей связанных лично с автором Христо Мирский, однако это не автобиография и материалы сделаны интересными для читателей. На данный момент их 4 штуки, а именно: Мирский против Мирского, Ах, госпожи, господа!, Условия для печатания Мирского, и Творческое завещание Мирского. Имеются схожие папки на английском и болгарском, но они отличаются.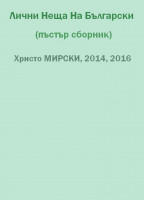 Лични Неща На Български (пъстър сборник)
by

Chris Myrski
In Bulgarian. Този папка съдържа няколко неща свързани лично с автора Христо Мирски, обаче това не е автобиография и материалите са направени интересни за читателите. В момента има 4 неща, а именно: Мирски срещу Мирски, Обява, Условия за печатане на Мирски, и Творческо завещание на Мирски. Има сродни папки на английски и руски, но те се различават.