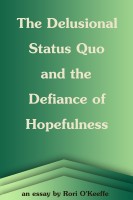 The Delusional Status Quo and the Defiance of Hopefulness
by

Rori O'Keeffe
Price:
$0.99 USD.
Words: 2,120. Language: English. Published: September 15, 2015. Categories:
Essay
»
Political
Democracy faltering, ecosystems under assault worldwide, resources becoming ever more scarce - and what do the elite of our great nations do? They offer the same old delusions about freedom and the sustainability of our way of living. We can't solve all the problems one-by-one with the current setup - what we need to do is get to the kernel of the problems, and begin anew with all our wisdom.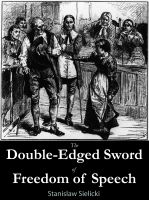 The Double-Edged Sword of Freedom of Speech
by

Stanislaw Sielicki
What were the Classical Philosophers and Thinkers of the Age of Enlightenment saying about the Censorship and Freedom of Speech? What did the Founding Fathers learn from their Great Predecessors? Were the Framers of the Constitution the real Champions of Freedom? This short essay may help you find answers to the questions mentioned above.
Related Categories