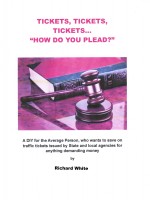 Tickets, Tickets, Tickets...
by

Richard White
Price:
$4.99 USD.
Words: 12,550. Language: English. Published: November 30, 2012. Categories:
Essay
»
Legal
Tickets, Tickets, Tickets... "How Do you Plead?" is a detailed description for the DIY average person dealing with any traffic ticket in America. It includes case cites to deal with the courts, prosecutors and the DMV in most states. A series of scenarios deal with the average ticket and also includes one involving DUI, DWI situations.
Related Categories