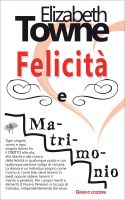 Felicità e Matrimonio
Uno dei miti sul matrimonio è che vi renderà felici. Non è sempre vero. Un matrimonio felice dipende dalla felicità che si ha dentro e sposarsi non è necessariamente la chiave per raggiungere la beatitudine eterna. Un interessante libro di auto-aiuto al mantenimento di un sano rapporto coniugale, ma anche una guida che fornisce risposte a molte situazioni difficili della vita.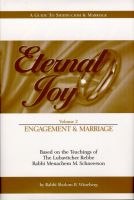 Eternal Joy — Volume II — Engagement and Marriage
Eternal Joy assembles warm and thought-provoking pearls of the Rebbe's wisdom in one book. The Rebbe's approach to successfully building "a faithful edifice in Israel," a marriage of "eternal joy," is now accessible to all.