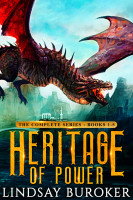 Dragons have returned to the world, and they're wreaking havoc on human civilizations.

Only one man has the power to stop them.

Born an outcast who's never fit in, Telryn "Trip" Yert has spent his entire life hiding a secret that could get him killed:

In a world where magic is forbidden, the ancient blood of dragons flows through his veins.

Joined by a snarky sentient sword, a band of equally snarky allies, and the smart scholarly woman he longs to impress, Trip must master his powers, learn the secrets of his heritage, and go on a quest to save mankind. If he fails, dragons may take over the world and enslave all of humanity.