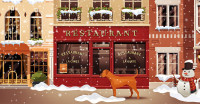 When Harvey Beckett moves to the Eastern Shore of Maryland and opens her bookstore in the town of St. Marin's, she has no idea that she's also beginning her "work" as an amateur sleuth.

Soon, Harvey and her friends are embroiled in a series of murders that challenge them to find the killers and come to understand new things about themselves, too.

A series for book lovers, cozy lovers, and animals lovers alike.