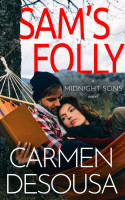 The Midnight Sons ~ Men as Wild and Rugged as The Last Frontier Itself

Five brothers risk their lives to rescue those caught in the death grip of the Alaskan wilderness…and find their hearts in danger of falling for women as tough as the Land of the Midnight Sun.

The siren call of Alaska's untamed wilderness, vast mountain ranges, and majestic glaciers draw thrill-seekers from around the globe. But with more unsolved missing person cases than anywhere else in the world, the Alaska Triangle has an ominous reputation. Enter the Midnight Sons, a team that risks their own lives to rescue those in peril.

Being a hero isn't all it's cracked up to be, though. The pay sucks, as does the fact that the team leaders have to be ready to spring into action 24/7, 365 days a year—a lifestyle not conducive to a healthy love life. Worse, while the brothers are experts in their individual fields, they each harbor inner demons and secrets that threaten to tear their family apart… and jeopardize any chance of finding the women who could complete them.