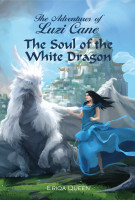 If you think dragons are a myth, you'll learn otherwise in these stories. Furthermore, you will learn about the elves, and discover an entire world you didn't know existed right under your nose.

In her search for material for books, Luzi stumbles upon many secrets and old wisdom, signs of lost ancient knowledge. When searching for truth, one may find love and friendship that one has been looking for, even in places abandoned many years ago, or in realms not of this world.

This series gives you a unique opportunity to enjoy incredible adventures. You gain so-called lost knowledge, in a world that tries to wake up from its long slumber, but is distracted by the 'noise' from the same world. The dragons are awakening, not to destroy us, but to guide us in our quest for a deeper understanding of our place in creation.

Each book contains a completed story in its own right.