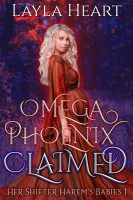 Cyra, a rare Omega phoenix shifter, has had a rough week, to say the least.
First, two playboy Alphas, a hydra and a griffin, start showing up at the cafe she works at. Their teasing making her all hot and bothered, no matter how much she tries to ignore them. And then she accidentally accepts to play a princess at a spoiled shifter kid's birthday party, where her crappy old car promptly breaks down. Luckily, or maybe she's just cursed, a cerberus and a centaur Alpha are there to save the day and give her a ride home.

But now everything she's worked so hard for is falling apart around her. Money is tight, and with her crappy car constantly needing repairs, she won't be able to afford the medication she needs to stay hidden from shifters, especially with the mating season only weeks away.