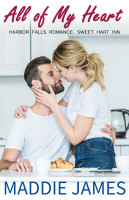 Contemporary, small town romance books by Maddie James, where second chances, secret babies, and boy/girl-next-door happily-ever-afters happen! Nestled in the rolling hills of the North Carolina Blue Ridge Mountains sits the small town of Harbor Falls--a town that boasts of a booming tourist industry laced with southern charm and grace, topped off with a host of quirky characters and one very busy chef and B&B owner by the name of Suzie Hart.

You'll meet Suzie in the first book, All of My Heart. All Suzie wants is to run Sweet Hart Inn, write her cookbooks, and cook. After all, food is definitely her love language. What happens is an unexpected happily-ever-after for her, a television cooking show that puts her in the national spotlight, and a few happenstance matchmaking gigs that seals the deal on her local matchmaking celebrity.

Can this accidental matchmaker "perfectly match" the miss-matched couples of Harbor Falls?