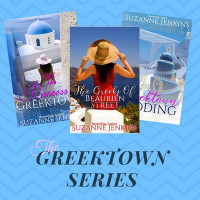 Nestled below the skyline of Detroit you'll find Greektown, a few short blocks of colorful bliss, warm people and Greek food. In spite of growing up immersed in the safety of her family and their rich culture, Jill Zannos doesn't fit in. A Detroit homicide detective, she manages to keep one foot planted firmly in the traditions started by her grandparents, while the other navigates the most devastated neighborhoods in the city she can't help but love.

>>>While She Investigates Murders in the City, Secrets from Her Own Family Emerge
She is a no nonsense workaholic with no girlfriends and an uncanny intuition, inherited from her mystic grandmother that acts as her secret weapon to crime solving success. Her story winds around tales of her family and their secret laden history, while she investigates the most despicable murder of her career.

>>>The Greektown Stories are modern tales of families grounded in old world, sometimes archaic, tradition as they seek acceptance in American society. They could be any nationality, but they are Greek.
Warning! Adult content including violence.