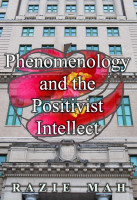 At the start of the 17th century, science is conceived when mechanical philosophers define a positivist intellect, a cogito with an unquenchable will to know.
Two hundred years later, the distinction between a natural noumenon (the thing itself) and its phenomena (its observable and measurable facets) is codified as a slogan. A noumenon cannot be objectified as its phenomena. Hands-on scientists investigate phenomena. Visionary scientists virtually situate hands-on science by elevating models into laws, aiming to convert laws into things themselves.
In the early 20th century, Edmund Husserl counters visionary science. He fashions a method to return to the noumenon, by asking phenomena, "What do you want me to recognize as the thing itself?" Phenomenological reduction elucidates what the noumenon (of a natural science) must be.
This series offers commentaries that lead the reader further into the realities that phenomenology, visionary science and the postivist intellect engender. The relationships must be visualized. Peircean diagrams interweave with text.
For a list of works in the series, please consult the blog for May 03, 2022 at www.raziemah.com.