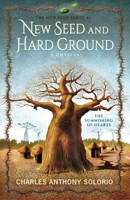 The hunting of humans has been hidden through all of history in plain sight. A prisoner from the near future, awaiting his murder, is warning us and giving us hope of a Story. The New Seed is an epic series that reveals a thread of the stories of the hunted within the beautiful fabric of a larger story through all history. Evil is roaming the land. Families and nations hang in the balance. The hardened heart soil of many live in fear.

Where is God?
Who will answer all the crying voices?
Can a new seed grow in hard ground?