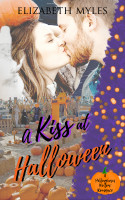 Welcome to Hillingham Hollow, a quaint Texas suburb where real magic is rumored to be in the air…
Twenty-year-old Autumn Joy Alejandro is getting married.
Somehow, the former Hillingham High homecoming queen and recent Harvest Festival Pumpkin Princess has managed to land one of the world's most eligible bachelors, Twenty-eight-year-old Gothic rock singer Corvin Covarrubias. When the tall, dark, and extraordinarily handsome star escorts his new bride-to-be back to the suburbs for their highly publicized wedding, all of Hillingham Hollow is entranced.
Autumn Joy is sweet and friendly, known for her almost angelic levels of kindness and generosity. Corvin is the opposite, a worldly international celebrity with a dour image and devilish reputation, rumored to be a real-life vampire. The unusual pair captures the locals' imaginations, and soon speculations about their alliance are swirling.
According to many hopeful Hillingham singles, the "marriage of light and darkness" taking place in the heart of their community will be a charmed event, guaranteeing every guest their own happily-ever-after.