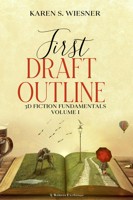 Brainstorm and work productively to ensure that each stage in the writing process from prewriting to polishing produces masterful results the first time around.
Create an outline so complete it actually qualifies as the first draft of your book, allowing your first written draft to be final-draft quality.
Develop realistically three-dimensional and cohesive characters, plots, settings, relationships, and scenes so life-like and memorable your readers will be diehard fans.
Effectively prepare for a series in advance to prevent painted-in-a-corner scenarios in order to keep fans coming back eagerly for each and every installment.
Learn innovative techniques to write a complex sequence of stories that require overarching series arcs and immense world- and character-building.
Craft sizzling back cover, series, and high-concept blurbs for describing, promoting, and selling your books.
Maximize your potential and momentum for becoming a career author indefinitely.

With step-by-step guidelines, instructions, and tips throughout that are flexible and clearly written, imparting a layman's ease of understanding and can-do motivation, this collection may be the only writing craft...