About the Series: Jason Willow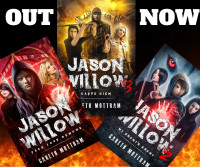 You are seventeen. One night your dad crashes into your room and orders you to pack. You have fifteen minutes to leave your entire life behind, friends, home, school – everything.

And he won't tell you why.

Jason Willow and his sassy, older sister, Miranda, have suffered this half a dozen times. They have trained in a deadly martial art since before they could walk and are constantly told to trust nobody. Now they have had enough.

The trilogy follows Jason's frantic fight for survival, from his final midnight move to a brutal school lost in the Yorkshire Moors, to a Scottish castle and then across Europe to deserted mountain towns, wolf ravaged forests, crumbling mansions, Venetian canals, violent Goth festivals and beyond, to the gates of Hell itself.

Supernatural powers, secret pasts, demons and dark creatures, corrupt cabals, love triangles and fatal betrayals weave into this epic story of the hidden war against demon control of mankind.