About the Series: My Blood Approves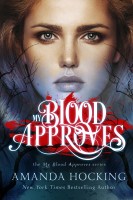 Seventeen-year-old Alice Bonham's life feels out of control after she meets Jack. He's unlike anyone she's ever met.

Then she meets his brother, Peter. Even though he can't stand the sight of her, she's drawn to him.

Soon, Alice finds herself entangled in the world of vampires, and she is caught between love and her own blood...
Reviews
Review by: Lauren Bird on Oct. 04, 2012 :
fantastic!!!!
(reviewed 75 days after purchase)
Review by: N B Hallett on Feb. 19, 2012 :
Gives more insight into the whole vampire back story ... also there is a neat little foreshadowing going on ... see if you can spot it ... it will continue on into book 4 ...
(reviewed 27 days after purchase)
Review by: Michelle Auricht on Jan. 06, 2011 :
Oh , 'Flutter', is full to the brim of excitement and mayhem. It's been 3 weeks since Alice went through her change. She is handling it very well considering the bloodlust she must endure. I think I like 'Flutter' the best so far as soooo much happens. POW's and twists at every corner.

Ezra and Alice travel to Finland to save Peter from his worst enemy, himself. Alice learns that not all vampires are like her new found family. Ezra makes payment for Peter's suicidal mission.



New characters are introduced. Jane is going down the WRONG!!! path. Oh, Jane, don't go there girlfriend!! I kinda wanted to give Jane a good slap, if it would do her any good.

Mae has her own problems she must confront , she is desperate to be understood. Has she over stepped the line?

Alice has to restrain herself in more ways than one. Oh the tension oozes in this book.

Milo has a new friend and Alice must deal with it. Milo must also deal with the danger his new friend holds for him.

Amanda will make your eyes pop in 'Flutter', lol!! I know mine did several times. There is action, drama, emotions are on high alert, betrayal weazles it's way in, confusion ripples below the surface, but through it all Ezra is a rock. Everything is going haywire around him, his family is going through their own little crisis's, but Ezra will always be there to help and defend his family...... or are some things just too much to overlook......Oh Mae...what have you done.........

FAVE QUOTES:

"Are you Han Solo? " I raised my eyebrow at him.
"Yeah, I wanted him to be Princess Leia, but he wouldn't go for it, " Bobby gave Milo a pouty look, and I was momentarily relieved that Jack wasn't around so he couldn't try out that exact idea on me. Then I realized that Jack wasn't here, and I got sad again.
"I am not going to wear a gold bikini, "Milo said. "Even I'm not gay enough for that!"

"Did you really want my blood that badly?"
"Your blood is divine, " he admitted sadly. "But I always wanted more than that." he exhaled huskily.

The air was so thick with the scent and feel of him that I could almost taste it, and I wanted to taste him. I wanted him in the most visceral way.

With Ezra so close to me, I had the strangest urge to kiss him. That was just the blood talking, so I lowered my head before I could act on it.
(reviewed 19 days after purchase)
Review by: superlibrarian on Dec. 07, 2010 :
** spoiler alert ** While I thought the second book was a step up from the first, this one is a step backwards for me. Too much focus on Peter. The plot seemed a little bit all over the place first. First, find Peter and almost get killed by lycans (aka. feral vampires)! Then, Jack and Alice finally have sex! Milo gets a boyfriend and almost accidentally kills him! Mae wants to turn her terminally ill, 5-year old great granddaughter into a vampire! Alice's friend Jane is a bloodwhore and dying as a result! Oh yeah, and those lycans from the beginning? They're back at the end for a grand finale!

I'm sorry, but as I said in my review of Fate, I just don't buy that Peter loves Alice BECAUSE HE DOESN'T REALLY EVEN KNOW HER!! I cannot recall them spending any quality time together getting to know one another, just being normal, not being angsty. I can understand Alice feeling some sort of hole where her bond used to be and being sad about it without knowing why. I can understand Peter feeling the same way. I can't understand him being in love with her. Not just in love, but he apparently loves her more than Elise, the love of his life? It makes me wonder how unreal and superficial his relationship with Elise was.

Still, I've already started reading the fourth book. And I really like Milo and Bobby. They're cute.

Technical notes: I read the .epub version from Smashwords. A significant jump in number of typos and errors from the previous two books. Also a couple places where there's a blank page randomly in the middle of a chapter.
(reviewed 28 days after purchase)