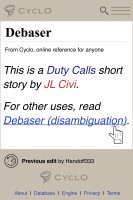 DUTY CALLS is a tale about jury duty. More accurately, it's a tale inspired by jury duty.

Back in 2008 I was a juror on a two-month trial. One thing I learned is that even though a trial lasts two months, the jury isn't actually doing two months worth of work. There is a lot of waiting. Way more waiting than anything else.

All that time spent waiting with my fellow jurors gave me an idea for a different kind of jury story. One where the case is the least important aspect -- maybe even a non-existent aspect. Create twelve characters. Give each one a featured flashback of their life outside of jury duty. Put them in the waiting rooms of justice to kill the boredom by shooting the breeze. And give them a mystery to solve that requires teamwork.

These flashbacks form a series of loosely connected short stories set in the same universe. They can be read in any order and work on their own, but you'll find some common references and easter eggs that start to unify them.

One day each character will receive a summons to serve on a jury, collecting all of their tales into a novel interspersed with a collaborative courthouse mission.

Until then, duty calls...