About the Series: Many Deaths in the Multiverse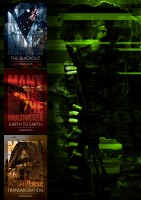 Fourteen years after the tragic deaths of their wives, Professors Turp and Weekes are filled with hope that they will be reunited soon. With the help of their sons and the researchers at ANZAR, the professors prepare to make a dangerous journey that will alter the past.

It doesn't go to plan.

After having been gone for ten days, the Professors' machine appears amongst thousands of glowing spheres which have encircled the earth. Millions are killed in an event which would become known as The Blackout. With their research blamed for the attack, and the military sent to apprehend them, the scientists' sons flee into the maze of alternate realities known as the Multiverse, in which their fathers had vanished.

Determined to complete his mission, Captain Ferine commandeers a second ANZAR vehicle and leads his men in pursuit of the fleeing ANZAR terrorists. As the two groups come into contact and are forced to rely on each other for survival, Ferine is forced to decide if he will be the ANZAR terrorists captors, or protectors, as they struggle to find the missing professors, search for a way to save the Earth and survive the horrors that await them on each layer of the Multiverse.