About the Series: A Crow Western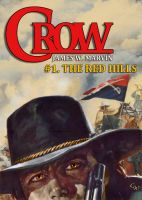 "Know what Crow used to say about livin' by your guns? Said it made him like a kind of alchemist. Said he was the first man in history to turn lead into gold. Yeah. Meanest son of a bitch ever. Crow."

No other name. Just Crow. Dressed in black from head to toe. The meanest man in the bullet-scarred annals of the West. Nobody ever turned their back on him. A cold voice in the shadows, a vengeful angel of death ...

The Crow series was written by the late Laurence James, one of the authors in the small group known as the Piccadilly Cowboys, who produced some of the most violent and brutally graphic westerns of their time. James perhaps writing the most twisted and sadistic books of them all.